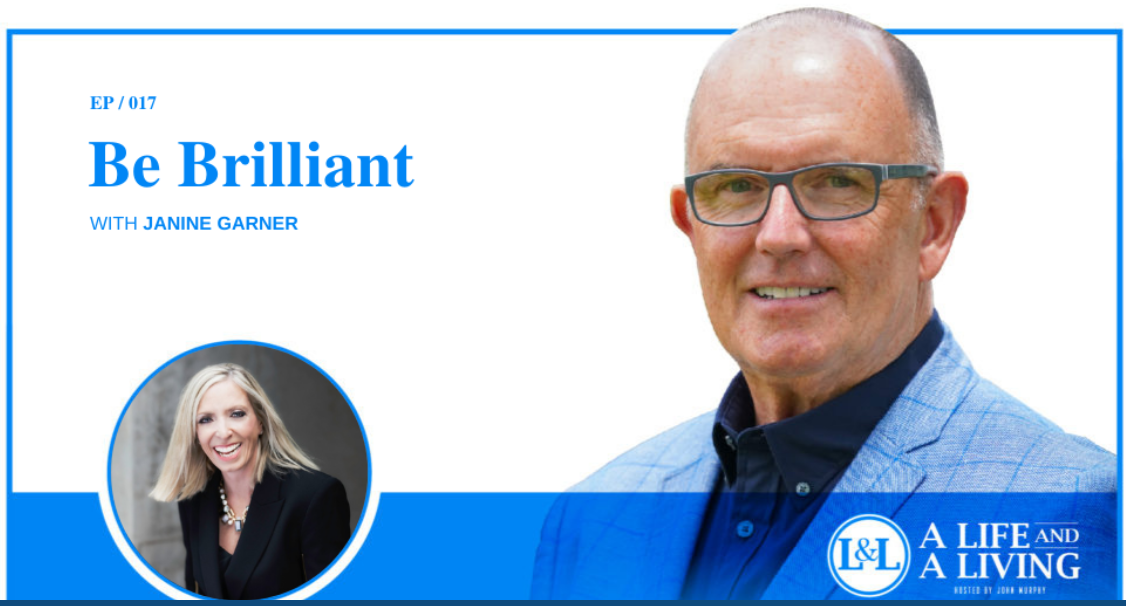 What does it mean to "be brilliant?" How can you manifest brilliance? What does brilliant even mean?
The amazing Janine Garner is with us today to help guide us to becoming brilliant and answer these questions. Janine is the best-selling author of It's Who You Know and From Me to We. She also has a new phenomenal book out called Be Brilliant that we'll be focusing on in this episode. Janine is also a business growth expert, keynote speaker, and consultant with a background in the corporate world.
Join us as we discuss how building brilliance also builds high performing leaders that create extraordinary results.
Show Notes: 
[2:50] – Janine shifted by accident from the corporate world to being a best-selling author and shares her story on how she started on this route. [4:17] – She didn't feel very fulfilled in her career and was constantly looking for more. She relocated to Australia with nothing and rebuilt her career and network from the ground up. [5:34] – While building her new life in Australia, Janine realized how powerful making connections and networking is. [6:19] – Throughout this experience and after a few years, she still had the feeling of "is this it?" and had lost her motivation. [6:56] – Janine met Abigail Disney, the grand-niece of Walt Disney, and had the opportunity to have lunch with her. Abigail told her, "You don't have to climb Mount Everest. You simply have to choose to be a brick in the wall of change." [7:56] – Janine shares her story about her "ah-ha" moment when talking about work with her young daughter. [9:30] – She left her six figure income to network and start her own journey. This domino effect led her traveling, speaking, and writing books. [11:12] – How do you define brilliance? Janine defines it as being the very best that you can possibly be. [11:57] – When we can get into the space of accepting who you are and what your potential is, there is amazing growth. [12:20] – How can you build incredible teams and be an incredible leader if you yourself feel like you are in survival mode and not shining brilliantly? [12:49] – Janine started speaking with great leaders to try and find what was missing. She found this consistent thread of self leadership. [13:40] – The essence of 
Be Brilliant 
is honing in on that self leadership so you can better lead others. If you can lead yourself without stepping into self doubt, you will be brilliant. [14:55] – The enemy of your brilliance is in you. It's that negative voice in your head that keeps you small. [16:10] – Many people are acquiring stuff and contacts and knowledge, but are still struggling with self doubt. That self doubt keeps you stuck. [18:07] – Janine tells a humorous story about a guest she had on her own podcast that really impacted John. Her guest named her negative inner voice Mildred the orangutan. [20:00] – Being able to distance yourself from that voice in your head really gives you a reality check. [20:32] – Janine created a series of "laws" in 
Be Brilliant 
– be you, be ready, be together, be heard. [21:04] – The first law, "be you," is owning your spotlight. [21:31] – The next law, "be ready" is about harnessing your energy. This all about ensuring that you are functioning at your best for as much time as you possibly can. [22:53] – Law number 3 is understanding that you cannot be your brilliant self without other people who see and support your growth and potential. [23:42] – And law number 4, "be heard," is about raising your profile, being seen, and influencing the performance of the people around you.
Connect with John Murphy:
If you liked this episode, please don't forget to subscribe, tune in, and share this podcast. Thanks for tuning in!
Source : John Murphy International
Issued :