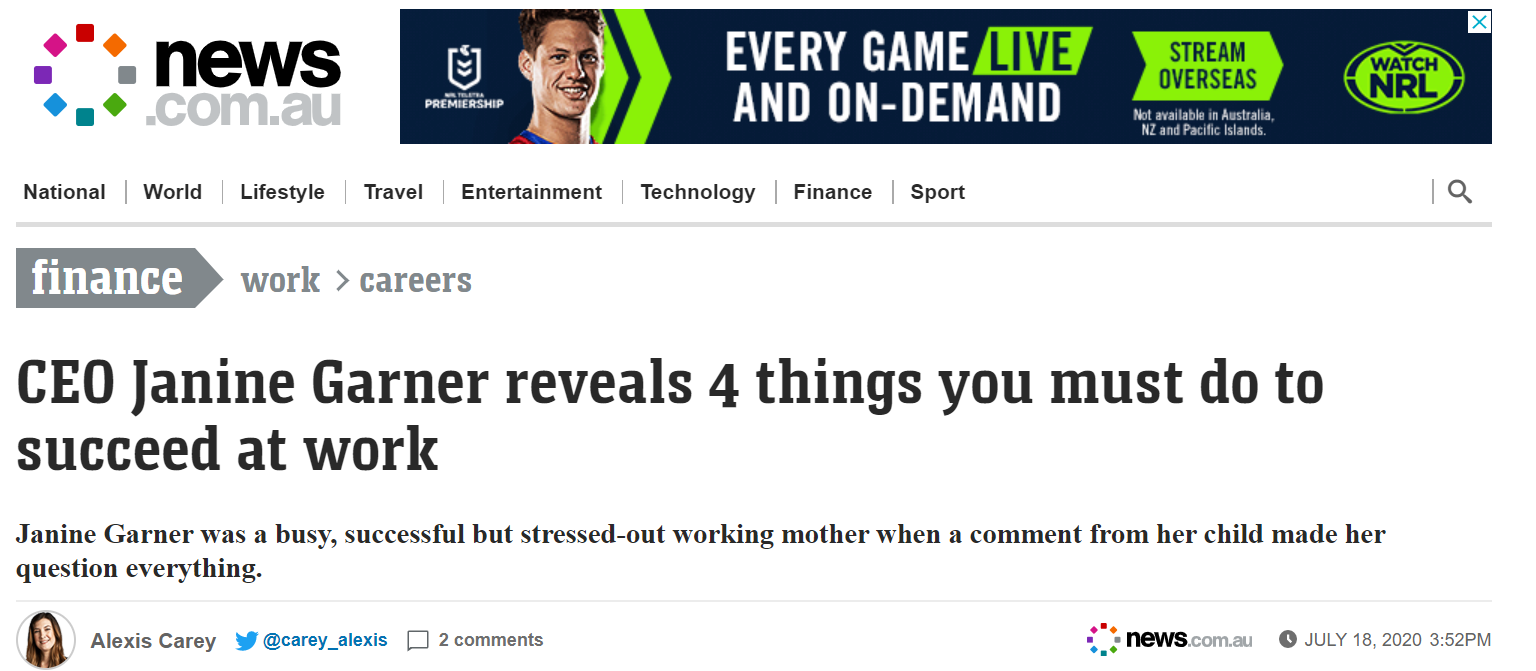 Janine Garner can clearly remember the moment an offhand comment from her young daughter made her rethink her life.
At the time, she and her husband were working full time in demanding careers while juggling three kids under seven – and it was exhausting.
Then one night during a family dinner, her then five-year-old turned to her and asked suddenly: "Mummy, why are you so unhappy?"
"I was working so hard and it was all about toys, putting food on the table and holidays, but in that moment I realised my five-year-old was right," Ms Garner told news.com.au.
"I was existing and operating and doing a lot of stuff, but I was not living."
She ended up quitting her corporate job and building her own business – The LBD Group – which is a huge networking group for women.
Over the years she has become a leading networking expert as well as an internationally-acclaimed entrepreneur and Fortune 500 mentor, keynote speaker and best-selling author.
Ms Garner's latest book, Be Brilliant, is a guide on using times of uncertainty to unlock your true potential – a theme that's all the more relevant during the unprecedented coronavirus crisis and subsequent economic downturn.
She told news.com.au it came down to four key "laws".
The first involves "reconnecting with who you are and "owning your spotlight" – in other words, ignoring that self-doubt and impostor syndrome and owning your dreams and your character, skills and experience.
Next, it's essential to look after yourself physically and emotionally by setting healthy habits which will allow you to "harness your energy" and take back control.
The third step is to surround yourself with people who support and believe in you – so make the time to reach out to mentors, friends and family members who have your best interests at heart and who will push you to be better.
Finally, it's about "leading with influence" – which means beating the habit of keeping your thoughts and feelings to yourself and speaking out with authority.
SOURCE: News.Com.Au
Published : July 18,2020